Designer: Michael Felix
Provenance: North America, 21st Century

Designed and handcrafted in Los Angeles, CA

Warranty: Lifetime Warranty

All Michael Felix frames and springs include a lifetime warranty

Additional Warranty: For leather products a five-year warranty is available; for cushions a four-year warranty is available

Dimensions: 37" W x 35" D x 29" H
GOLS Certified (Global Organic Latex Standard): GOLS is a globally recognized standard for products made out of organically grown natural rubber latex

Michael is a third-generation furniture designer, beginning his career as a sample-maker's assistant in the furniture factory founded in 1959 by his grandfather

All metal bases are powder-coated using Tiger Drylac's "Green Coating" — meeting membership criteria for the US Green Building Council
Materials:

Koi: 100% Cotton
Coral Reef: 61% Cotton, 39% Linen
Marine: 80% Wool, 20% Polyamide
Lagoon: 93% Cotton, 7% Polyester
Cornflower: 100% Cotton
What Have We Here ?
The Madda is a contemporary interpretation of the classic club chair. Its metal base wraps around the plump cushion as if to squeeze the seat full of support and comfort. This a chair that invites you to sit down, and rewards you for doing so. (Also, for what it's worth, may we describe that everyone looks amazingly good seated in this piece...)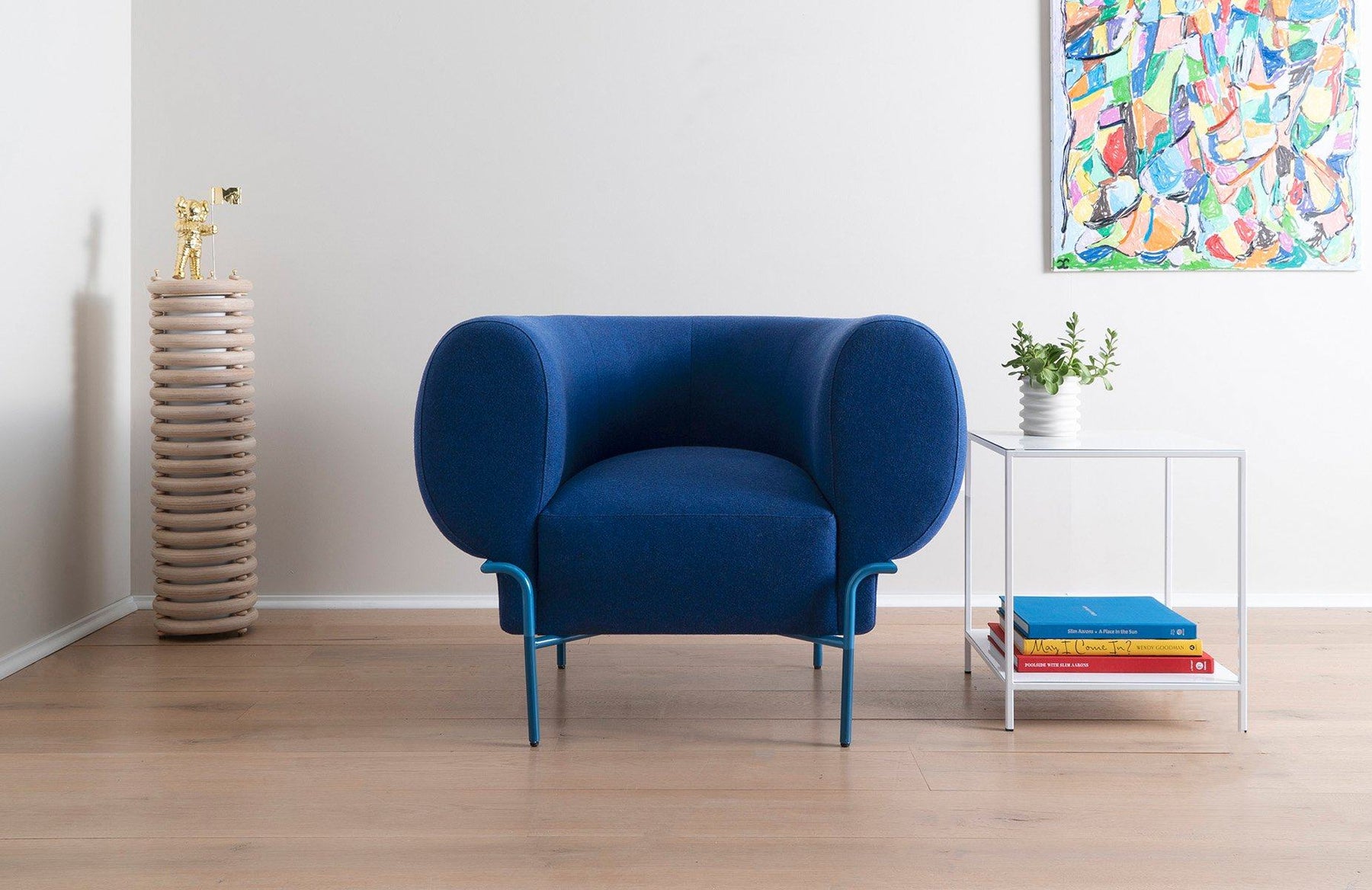 How to Use It ?
This chair is best suited for the relaxed aesthete, and we recommend placing it in an environment where its arresting beauty and expert construction will be both admired and experienced. The Madda is an exceptional work in contemporary design with its supremely handsome and eccentric persona, yet supportive and enveloping comfort. At the ZZ HQ, we all agree, this chair takes any interior to the next level. 

Why It Matters ?
Michael Felix knows furniture. He comes from a lineage of makers and upholsterers, and grew up visiting his family's furniture factory on the regular. Given his industry knowledge, he recognizes the importance of both selecting materials with durability in mind and keeping his supply chain short by utilizing local producers & vendors.